Gyalshing, 17th February 2023(IPR ):
The District Administrative Centre, Gyalshing witnessed an Awareness/ Sensitization programme on Indian Standards and Quality Control Orders organised by the Bureau of Indian Standards (BIS) in collaboration with the Department of Food & Civil Supplies held at District Administrative centre, conference hall Gyalshing today.

The programme was chaired by District Collector, Gyalshing, Ms. Yishey D. Yongda. Officers who attended were along with ADC Mr Khemraj Bhattarai, ASP, CEO Education and other Heads of Offices of the district.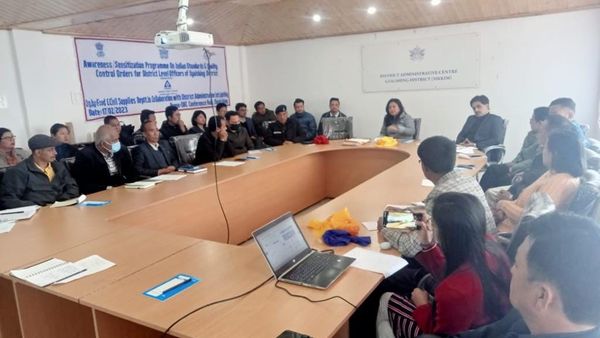 Mr M.Gantaity, Scientist / Dy. Director and Ms.M.Sultana(standard promotion Officer) gave a Power Point presentation on the following topics during the meeting:
-indian Standards, Product Certification, and the Functions of BIS in the Quality Ecosystem.
Indian Standard for the goods purchased and utilised by district government entities.
How to locate BIS-licensed producers for a specific market.
It was mentioned that without a BIS license, products covered by BIS obligatory certificates cannot be sold in the open market and the requirement of ISI-marked products in tenders are mandatory (where manufacturers are available).
DC Gyalshing enquired with the BIS officials on the mechanism in place that could ensure maintenance of standards. Adding that awareness /sensitisation of the citizens and public was of key importance, she said that the Panchayats, schools and NGOs need to be well informed about the BIS Standard Mark.

An open house saw many officers present in the meeting put forth their queries during the presentation.
The DC in her concluding remarks thanked the organisers for the session and also asked the CEO for opening of Clubs / volunteers in schools from Junior High School and above.
All