Gyalshing,February 14 (IPR):
District Collector Gyalshing Ms.Yishey D Yongda flagged off and formally inaugurated District level Financial Literacy Week 2023, with the theme "Good Financial Behaviour- Your Saviour" an initiative of Reserve Bank of India, Gangtok here from the premises of District Administrative Centre, Radentse today.

The inaugural ceremony had the participation of ADC Gyalshing Shri Khem Raj Bhattarai, SDM Gyalshing Shri Santosh Kumar Alley, CEO Shri Subbiah Gounder, Dy Director Education Shri Rajesh Thapa, Dy.Secretary RDD Shri N.B.Bishwakarma,Assistant Director Education Shri Rajen Tamang, DPO Gyalshing Shri Suman Rai, SDPO Gyalshing Shri Tulshi Thapa, Manager RBI Gangtok Shri Mridul Roy Chowdhary, Additional Manager RBI Gangtok Shri Ansuman Parya and Assistant Shri Ayan Das.

It may be mention here that, The Financial Literacy Week had commenced from 13th February formally inaugurated by the Chief Secretary of Sikkim Shri V.B. Pathak at the office of Reserve Bank of India, Gangtok.
Assistant Shri Ayan Das briefly sensitised the gathering on the motive behind the initiative was to make local gentries aware on the key aspects of digital banking facilities and impart financial literacy at the core level, which he firmly believed that is need of the hour.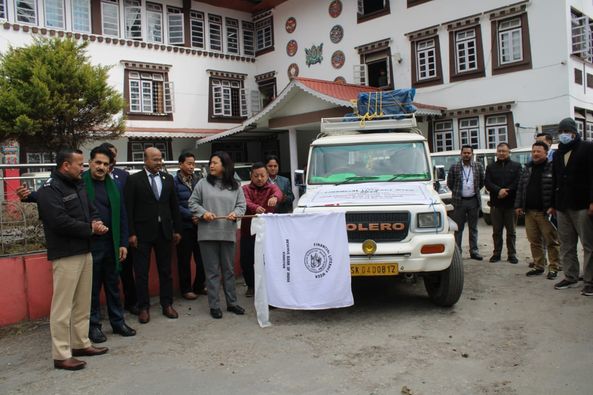 The ceremony also had the gracious presence of leading bank branch managers and assistant managers of the district, namely IDBI Bank, ICICI Bank, Canara Bank, SISCO Bank, Axis Bank, Central Bank of India Gyalshing and Legship branches and HDFC Bank.
The team is expected to cover the whole of BACs under Gyalshing district to aware the public on financial management and digital banking by 17 February.