TEAM OF GERMAN OFFICIALS FROM KFW AND GIZ VISITED SIKKIM MILK UNION AND SHOWN KEEN INTEREST TO DEVELOP ORGANIC MILK VALUE CHAIN IN DENTAM AREA.
The Animal Husbandry and Veterinary Services Department, Government of Sikkim, the Sikkim Co-Operative Milk Producer's Union Ltd is working on to establish model organic Dairy Production System in Dentam Block of Gyalshing District.
Various consultations are being done with National Dairy Development Board (NDDB) and other National and International Agencies to source funding for the same. The Dentam Dairy Plant was established around 15 years before with the support of ISPS and Government of Sikkim and was managed by AMUL under the banner of The Sikkim Dairy Products Private Limited.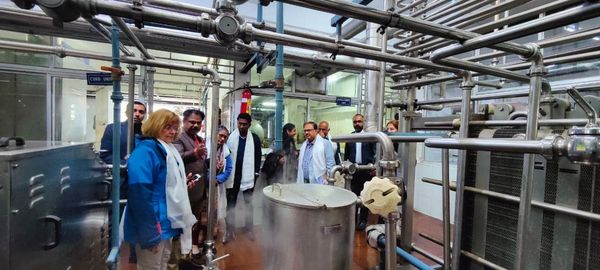 The SDPPL has become non-functional since last 2 years. It has been taken over by the Animal Husbandry Department in order to hand it over to the Sikkim Co-operative Milk Producer's Union Ltd for its revival and management. The Sikkim Co-operative Milk Producer's Union Ltd working on to develop Dentam dairy plant as organic dairy plant in Sikkim by developing organic dairy production system in Dentam Areas and is looking for funding under various possible sources.

Accordingly, Sikkim Co-operative Milk Producer's Union Ltd submitted a concept note to KFW for funding under the proposed Agriculture Value Chain Development initiatives by KFW. The proposal evoked keen interest in KFW team and understand further, the team of KFW visited Dairy Plant of Sikkim Co-operative Milk Producer's Union Ltd on 14 Feb 2023. The visit was facilitated by Dr. P. Senthil Kumar, Secretary Animal Husbandry & Veterinary Services Dept-cum Managing Director, Sikkim Milk Union.
The visiting KFW team consisted of Ms. Iris Harder, KfW Development Bank, Natural Resource, Asia, Ms. Rukmini Parthasarathy, KfW, Ms. Sangeeta Agarwal, KfW, Senior Sector Specialist, Mr. Rajiv Ahuja, Sr Policy Advisor, GIZ, Mr. Sam Thomas, Deloitte and few other consultants and Sikkim Milk Union officials consisted of General Manager Ms. Kesang Diki, Assistant Managers, Plant, QC and Procurement and other officials and staff.

Dr. Senthil Kumar, Secretary, AHVS/MD, Sikkim Milk Union explained the visiting team about the organizational structure of Sikkim Milk Union, its activities and progress shown since inception, recent Government Support in Dairy Development including milk incentive scheme, Gwala Diwas., etc.,.
The KFW team interacted very keenly and shown interest in development of organic value chain for milk in the state. The team spent about 90 minutes in the Gangtok Dairy plant and visited various processing sections of the plant and appreciated its performance and functioning. While discussion, it was observed that there is a possibility to make organic milk production in dentam area by identifying suitable clusters.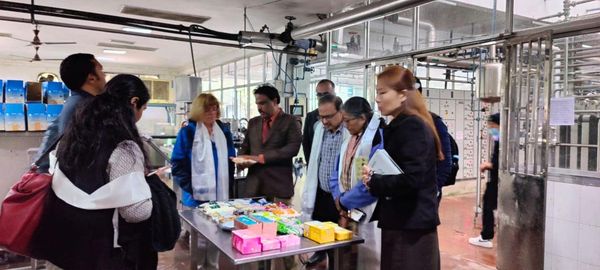 Further team has examined other possibilities to strengthen the infrastructure including dairy plant for its procurement, processing and marketing of organic milk and milk products at Dentam. The team also of opinion to venture into high shelf-life organic dairy products such as cheese, paneer., etc., to attract premium organic market in India and world. The Team members Ms. Iris Harder, KfW, Ms. Rukmini Parthasarathy, KfW, Ms. Sangeeta Agarwal and KfW, Mr. Rajiv Ahuja, GIZ interacted professionally with the MD and Other officials of Sikkim Milk Union and appreciated the requirements for funding and hopeful of achieving next mile stone on this proposal.
The KFW team expressed appreciation on the performance by Sikkim Co-operative Milk Producer's Union Ltd on various fronts and witnessed its functions and performance at Gangtok Dairy Plant.