Gyalshing,16th February 2023:
As per direction of DC Gyalshing Ms. Yishey D . Yongda, a field visit under Chongrang Block was conducted today for sorting out various roads, drainage, Power and calamities related issues.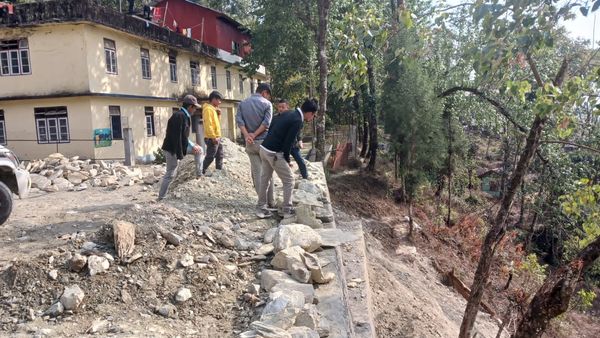 A day long joint inspection was hence carried out by a team comprising of SE R&B Department Shri. Saurav Lepcha, DE Shri Uttam Basnett, DPO Shri Suman Rai, BDO Chongrang Shri Garap Dorji Bhutia, in the presence of Zilla members, Shri Yadhu Nath Chettri and Shri Birendra Gurung of Arithang Gerethang and Kongri Tashiding Territories respectively, Panchayat President Smt. Sashi Luitel of Gerethang Labing GPU, Panchayat President Smt. Ganga Devi Chettri of Arithang Chongrang GPU, Panchayat President Shri Sonam Gyatso Chaktha of Tashiding GPU, Panchayat member Chogyal Lhakhang ward Shri Gyatso Bhutia and local public.
The areas covered by the inspection team were Gerethang, Lower Chongrang, Nerdang and Tashiding monastery where the absence of drainage along the roads have caused major devastation during torrential rains of last monsoon, besides inspecting damaged houses, Power cabling requirements at the Gumpa and the recently black-topped road leading to the monastery.
The team would be submitting a detailed report to the District Collector.