Press Release from
Commerce & Industries Department
Government of Sikkim
Temi Tea Factory outlet opened in Central Park, Namchi
Temi Tea Estate inaugurated Temi Tea Factory outlet at Central Park, Namchi today 15.02.2023 by Hon'ble Chairman, Tea Board of Sikkim Shri Tashi Tshering Bhutia.
Temi Tea Estate produces its premium orthodox Black Tea, Estate also diversified its products to Green Tea, Oolong Tea and white Tea.Flavor teas also under the scanner to have variety of products, Estate already launched Lemon Tea and Ginger Tea.
Temi Tea is Known for its exquisite flavor, unique taste and Flowery Orange liquor, Temi Tea also known for its anti-inflammatory activities. Temi Tea mostly exported to Germany, other European countries, US, UK, Canada, France, Japan, Taiwan, Thailand & Korea.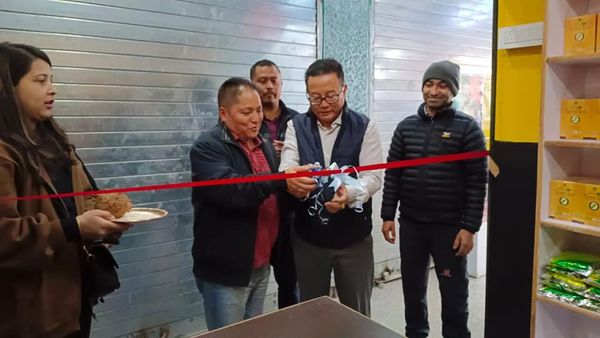 About 40% of Tea is being sold in retail market, the retail market base for Temi Tea is mostly Sikkim, West Bengal. Delhi and Part of UP. In order to enhance the retail market, Temi Tea taking steps to set up its own factory outlet. Factory outlet already set up in Pelling & Jorethang.
Now Factory outlet opened at Central Park, Namchi to increase the retail sale in Namchi District, Retail sale and wholesale is being done through this factory outlet. Wholesalers need not to visit Temi Tea Factory for purchase of Tea. They can purchase teas from these factory outlets. Consumer also can get fresh teas from these outlets at slightly discounted price.
Total of 15 Temi Tea outlets are planned to set up across the country in places like Bangaluru, Hyderabad, Chennai, Delhi, Lucknow Kolkata,etc.