Namchi, 17th February (IPR): Minister Skill Development Department Mr. Bhim Hang Limboo inaugurated Government Industrial Training Institute (ITI) at Kewzing under Namchi district, today. He was accompanied by Area MLA Mr. 😭. Bhutia, Advisor Skill Development Department Mr. Satish Chandra Rai, Chairperson Skill Development Department Mr. Binod Basnet, Secretary Mr Karma Namgyal Bhutia, Additional Secretary Mr. Samdup Bhutia, Chief Administrator (SICB, Karfectar) Mr. Bishal Rai, Joint Director Dr. I.B.S. Yadav, Deputy Director Mr. D.D. Sharma, Principal (ITI) Mr. M.N. Bhutia accompanied by officials, faculty and students of ITI.
The Minister also virtually inaugurated Girls' Hostel, Government Industrial Training Institute (ITI), Rangpo and Mechanic Motor Vehicle Trade Workshop, Government Industrial Training Institute (ITI), Rangpo.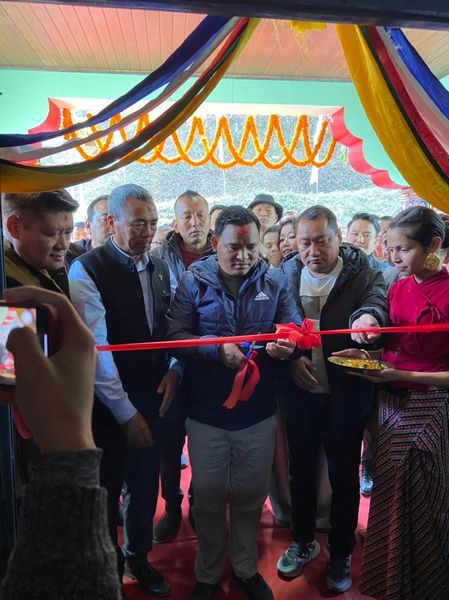 Addressing, the gathering Minister Skill Development Department Mr. Bhim Hang Limboo spoke about the immense capacity that ITI, Kewzing has in providing quality education to the students at large. He stated that the State Government has put in efforts at various ITIs with the aim to empower the youths with skill sets to enhance their technical expertise, thereby making them self- reliant. With this regards, he urged the stakeholders and local population to understand the concept of learning provided at the ITIs and further permeate the structure of the course at grassroot level especially to the students. The Minister further informed that with the training received from ITIs the youth of the state can opt for different jobs and that the supply of skilled man-power can be filled by the youths from the state itself. He underscored that students of ITIs need to have an entrepreneurial insight for them to be Job Providers and contribute to the economy.

Delving about the various developments, the Minister added that State Government has established hospitals, Education Institutes for the benefit of the population.
Area MLA Mr. 😭. Bhutia congratulated the locals in getting an ITI institute in Kewzing. He underlined that this institute is a boon for the students, guardians and the local population as they can opt for more career opportunities and make the students into a critical-thinker by developing their skills.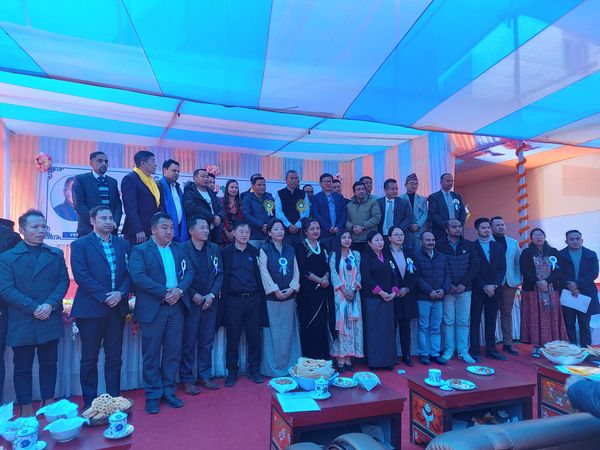 Secretary Mr Karma Namgyal Bhutia presented an overview about ITI, Kewzing, he said that the institute came into existence through 'Enhancing of Skill Development Infrastructure (ESDI) scheme in North East and Sikkim, under CSS-90:10 funding ratio with an original project cost of Rs. 950 lakhs. The land from Horticulture Department was transferred to Labour Department and the ITI project has two components namely Civil Works and Academic. He further informed that currently there are about 117 students enrolled in the institute. Moreover, the secretary brought to light that there are six courses offered in the institute they are namely Computer Hardware and Network Maintenance, Civil Engineering Assistant, Front Office Assistant, Human Resource Executive, Welder and Machinist.

Joint Director Dr. I.B.S. Yadav also briefed about ITI, Kewzing wherein it was shared that currently the state has a total of four Government ITIs and that there are two ITIs which is currently in an under construction stage at Rhenok, Pakyong District and at Chumbong, Soreng District. He further updated that ITI, Kewzing includes a workshop building with GCI-top Roofing which is four and a half storeyed, Administrative Building two storeyed with opening, Internal and external water supply and household electrification and many more amenities.

Deputy Director Mr. D.D. Sharma presented a brief about Niyukti Kendra which is a flagship initiative of the Skill Development Department with an aim to evolve an appreciate skill development framework. Since, its launch Niyukti Kendra has achieved a lot total number of 798 candidates has been placed as paid apprenticeship, 142 candidates have been selected and sent for free training under various government schemes, 822 candidates has been selected for regular job roles, 138 establishment's is registered with Niyukti Kendra, 121 establishments visited for promotion of local employment and apprenticeship programs, 11 Job melas have been conducted, a total of 08 career counseling events has been conducted, Similarly, 2883 candidates are registered under Niyukti Kendra, 1620 candidates has been placed till date and 1262 vacancies has been collected till date.

At, the onset of the inauguration the Minister alongwith dignitaries inspected the ITI, Kewzing premises. He also interacted with the students and staff of the institute.