Mangan District Departmental Coordination Meeting with Zilla Panchayats.
Mangan, 17 Feb (IPR): A day-long departmental coordination meeting, with line departments along with Zilla panchayat members was conducted at Mangan District Zilla Panchayat conference hall today.
The meeting was chaired by Zilla Adhakshya Mangan, Shri Kado Lepcha in the presence of Zilla Up-Adhakshya, Smt. Sonam Kipa Bhutia, D.C Mangan, Shri Hem Kumar Chettri. Also present were Zilla panchayat members, ADC (Dev) Mangan, SDMs, Head of Offices, and officials from line departments.
The meeting commenced with departmental wise oratory and PPT presentations of status report.
Progress reports and presentation from all the departments were made at the meeting. The Head of Offices and Officers of different departments gave a thorough outline about their respective functions, status on schemes, programs and services.
Zilla Adhakshya Mangan, addressing the august gathering expressed his pleasure of having person to person interaction with officials of line departments.
He assured having noted various subjects kept by different departments in the meeting and mentioned the work that needs to be done for the citizens of the district.
Further, he requested everyone to keep coordination and transparency for the betterment of the District.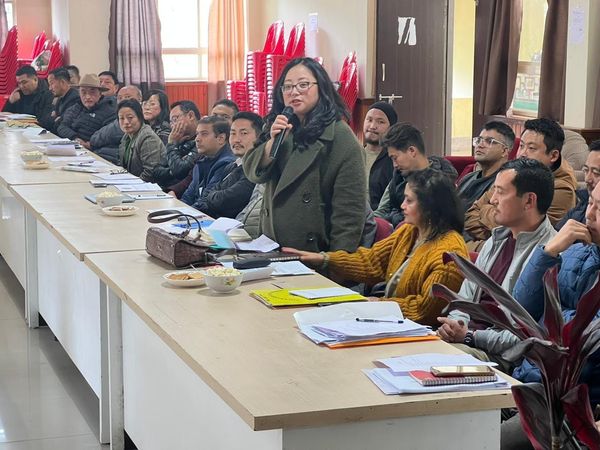 Zilla Up-Adhakshya Mangan, in her address lauded the efforts of departments and officers on their work. She gave inputs on affairs of different departmental schemes and their implementations. Concluding the address, she asked the Heads of Offices to forward a copy of every scheme to the office of Zilla Adhakshya.
Earlier, D.C Mangan, addressing the house congratulated all the participants for successfully serving the propose of the day long meeting.
Keeping his address short, he advised the assembly to keep the coordination meeting quarterly to observe progress and evaluate developmental works.
The meeting also had an open house discussion where Zilla Panchayats and the line departments put forth their concerns and suggestions on how to deal with issues raised was also integrated.
Various matters and queries pertaining to different departments were raised.