Pakyong, February 17(IPR): District Collector Pakyong Mr Tashi Chophel along with his team of officials inspected Sikkim IFFCO Organics Ltd infrastructure & Railway line construction work at Rangpo today.
At the outset, DC Pakyong visited Sikkim IFFCO Organics Ltd. at Rangpo and took stock of the infrastructure which will play a crucial role in maintaining the quality of the organic products and is on the verge of completion. The factory, which is scheduled to begin operations by April – May, will procure local farm produce and sell them in national and international markets.
Sikkim IFFCO Organic Limited is a joint venture between Indian Farmers Fertiliser Cooperative Limited (IFFCO) and the Government of Sikkim.

Subsequently, DC Pakyong & his team surveyed the railway line construction at Mazitar, Rangpo wherein it was found that the ICDS Centre of Khanikhola is having land related issues and is also not safe for the children as time and now the boulders keep on falling due to construction. And as a result, a temporary shifting of ICDS was finalised and by the time the department will look for a safe place for the children.

The DC interacted with the Officials present at the site regarding the issue of the water supply connection which might get damaged because of the railway line construction.
District Collector directed the PHE department officials to take immediate measures to ensure that the water supply remains uninterrupted in the concerned areas and as well urged the line department officials to maintain the quality and quantity of water supply in the area, especially during the construction of the railway project.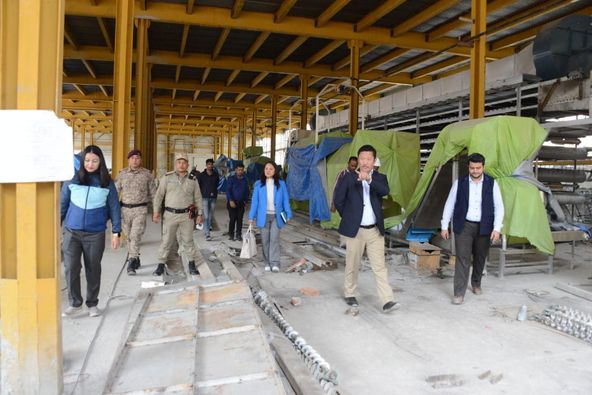 Eventually, the team also discussed at length about the protection of houses at Khanigaon from falling boulders at the worksite.
The day-long visit also had the presence of DFO(T) Pakyong, SDM Pakyong, MEO Rangpo, DD Pakyong, Officials from PHE, representatives from IRCON International Limited and Railway officials.